This site is dedicated to Jeff Stearns, the actor from USA's Pacific Blues Series.
New Easy to remember url: http://dear.to/jeffstearns
Here you will find information, photo galleries, interactive sections, etc. on this fine young actor. There is even an unofficial fan club if you are interested. Also I will update this site as much as I can on current information as of right now this page is current. Also if you know something not posted here I ask that you please let me know so that I may post if for everyone else to see. Have fun exploring the site all! Don't forget to sign the slambook so that I know you were here please. Any questions comments concerns please feel free to contact me.
---
MENU
---
PHOTO GALLERY MENU

---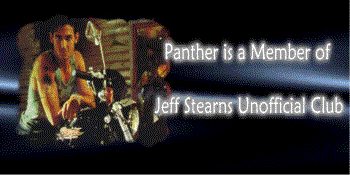 Webmistress/Page Designer: Panther





GREAT SEARCH SITE:
http://mediaminer.org

All original graphics © Panther's Creations, Inc.

THIS SITE IS JUST A FAN SITE AND IS NO WAY AFFLIATED WITH USA NETWORK, PACIFIC BLUE, OR JEFF STEARNS HIMSELF. ALL ITEMS THAT ARE NOT ORIGINAL GRAPHICS © TO THEIR RESPECTFUL OWNERS!!!!!!!!!